Tioman Island is a truly magical place. With stunning scenery and many species of wildlife, Minang Cove Resort does everything it can to be as environmentally friendly as possible.

We recycle all plastic and metal, and regularly walk the path to Mukut to collect any rubbish that other people may have left behind.

All laundry is done using cold water to save on energy, and we encourage guests to turn off all lights and air-conditioning when not in their rooms to do the same.
We don't use any bleach, and use ph balanced detergents for our washing, so we are looking after the sea too!

Tioman Island is a marine park, so we put in just as much effort into looking after the underwater life. Organised dives to collect fishing wire, old nets and rubbish that may be damaging to coral, turtles (who have a tendency to try and eat anything floating around them!) and other marine life, take place on a regular basis, and in 2009 we are establishing our own 'Artificial Reef' to promote coral growth in the area.

If you want to help us continue to look after the environment and enjoy everything it has to offer, come and join us at Minang Cove.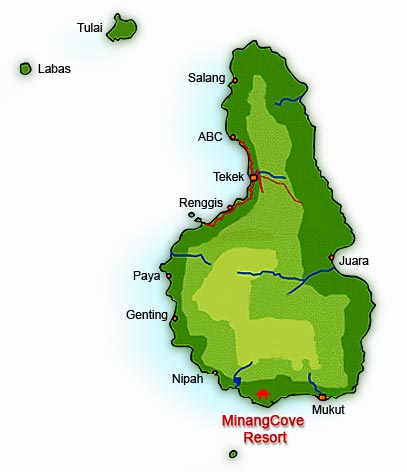 More Info About Tioman

Currency :
RM (Ringgit Malaysia). We accept foreign currency
Money :
No ATM machine on Tioman. Advice cash your traveller cheque at Mersing before coming over.
Electricity :
Voltage is 220 – 240 volts AC at 50Hz.
Phone :
CDMA and fixed. Some area no communication
Mobile Phone :
DIGI only available in Minang Cove, other telecommunication on selected areas
Local People :
Friendly, easy going and welcoming
Language :
Malay - mother tongue but English is widely spoken
Weight :
Matric in KG
Measure :
Matric in meter. Acceptable in inch/feet
Food :
Local food normally hot & spicy.
Tipping :
Not practise here. No need to give tip after meal but they accept as part of appreciation before you leave
Medicine :
Bring your own medicine. In case of emergency clinic available
Time :
8 hours ahead GMT
Internet Access :
Only available on selected areas